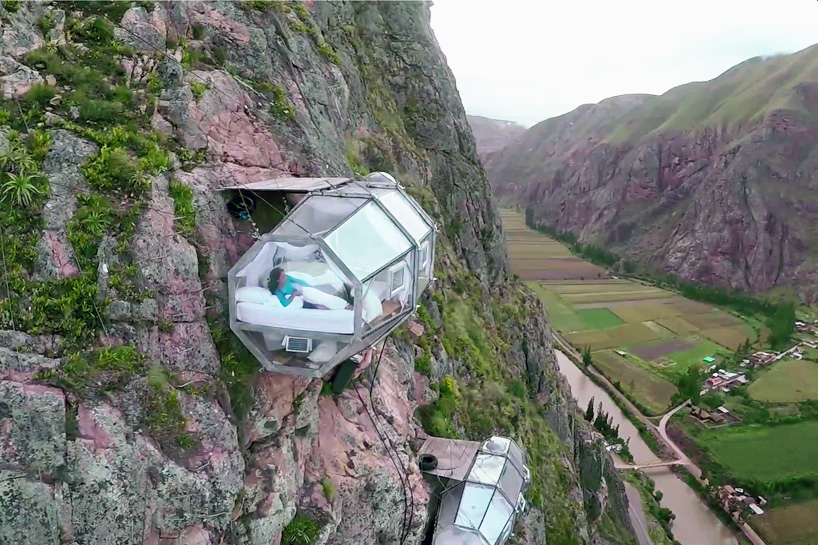 Sleep among clouds
It's the most unique hotel I've seen to date!
While in Cusco, Peru this past February, we drove past some of the most amazing views of the country; I must say I was very surprised at how amazing Peru was. I did not expect such magnificence. On our way to The Sacred Valley Ollantaytambo, I discovered this unique lodge on we stopped to view the coolest hotel on the hill, Sacred Valley Skylodge.
The lodge is located on the edge of a cliff and to get to your room, you have to climb / hike up the side of the mountain. The views from above however were amazing!!!!
 Just imagine sleeping among the clouds, being surrounded by nature and overlooking beauty while you relax from a busy day visiting Machu Picchu. There's nothing more relaxing than being in such a state.
---
Take a moment to view the video and possibly plan to venture out and visit this unique accommodation.
[qbutton size="medium" style="" text="BOOK NOW" icon_pack="" fa_icon="" fe_icon="" icon_color="" link="http://www.adventure-life.com/peru/sacred-valley/hotels/skylodge-adventure-suites" target="_blank" color="#1d8f2a" hover_color="#cc8c62″ border_color="" hover_border_color="" background_color=#cccccc"" hover_background_color="" font_style="normal" font_weight="600″ text_align="center" margin=""]