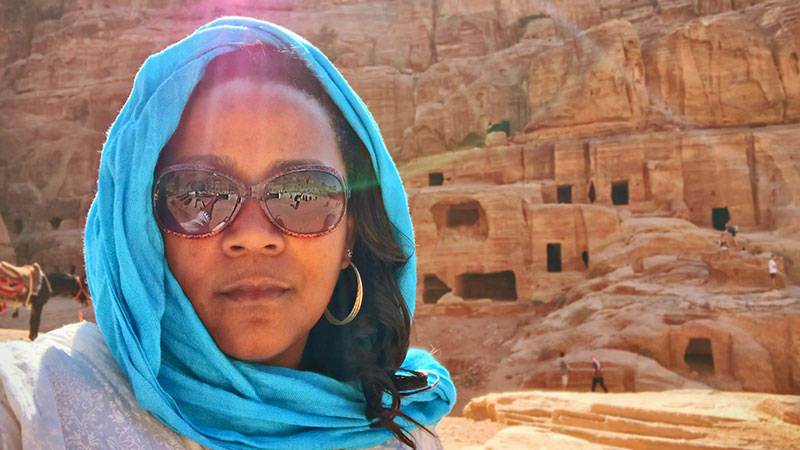 Tel-Aviv to Petra
I knew I wanted to go to Petra in pursuit of my goal of seeing all of the Seventh Wonders of the World but I never thought about visiting Israel at this time or even going across the border from there to visit another country. Since embarking on my own journey of traveling and discovering places, one of the many ways I ensure that I have the info I need is following other people on social media that love traveling as much as I do. One such person is Jakiya @travelingfro, who is an amazing travel influencer on Instagram. Jakiya did some stories of her time in Israel and was able to share her experience on visiting Israel and going across the border from there to Jordan in order to visit the city of Petra. Immediately, I thought that would be the perfect route for me as well!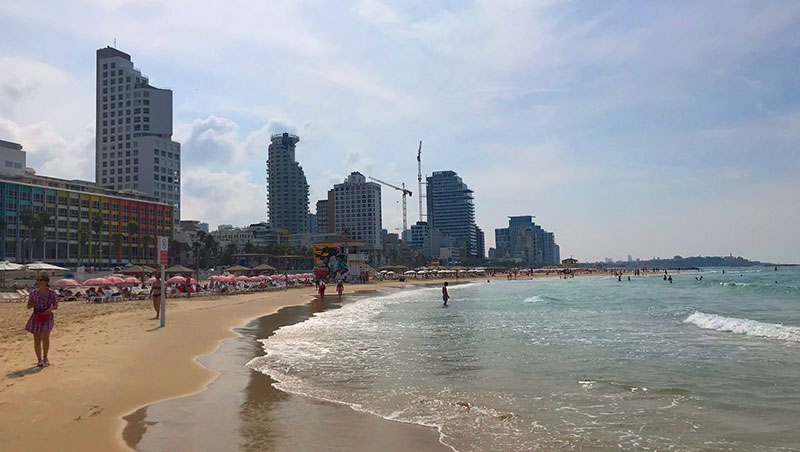 Everyone's experience of something or in this case somewhere, will always be different. Not saying we must not be cautious and vigilant anywhere we go as a visitor but it's up to us as individuals to go and experience things for ourselves and not just hold unto other people's views. This creates a negative perception of countries, people and their culture that inevitably breeds stereotypes about communities.
With that said, I know that there is a history behind Israel , how it came to be and the ongoing friction that is occurring between them and Palestine. So one of my concern for going to Israel was what to expect entering the country and going through immigration. I was told that visitors might be quizzed thoroughly on the purpose of their visit. Because of my concerns, my mom had a coworker whom she worked with, set up some time with me to talk about my visit. As someone who was Jewish and made the trip there annually, he was very helpful in walking me through things (culture, food, what to expect at port of entry, the people etc) and recommended places for me to visit while I was there. It made a huge difference and helped ease my mind on my upcoming trip.
The itinerary for my visit went a little something like this:
Tel Aviv – 2 days
Jordan – 2 days
Jerusalem – 1 day
Back to Tel Aviv – 1 day
Turkey – 1 day
Needless to say each day was packed with tours. We had only one free day to explore Israel on our own.
Day one adventures in Tel Aviv : Gordon beach and Jaffa Flea market.
Without going into the water I got immediately excited. It is known for being one of Tel Aviv's most popular beaches, with wide stretches of sand, lifeguards and was full of movement and happy people enjoying the Middle Eastern sun. With a million umbrellas along the sand, Isreal seemed to have a lot of early risers and people who appeared to be doing some sort of fitness routine.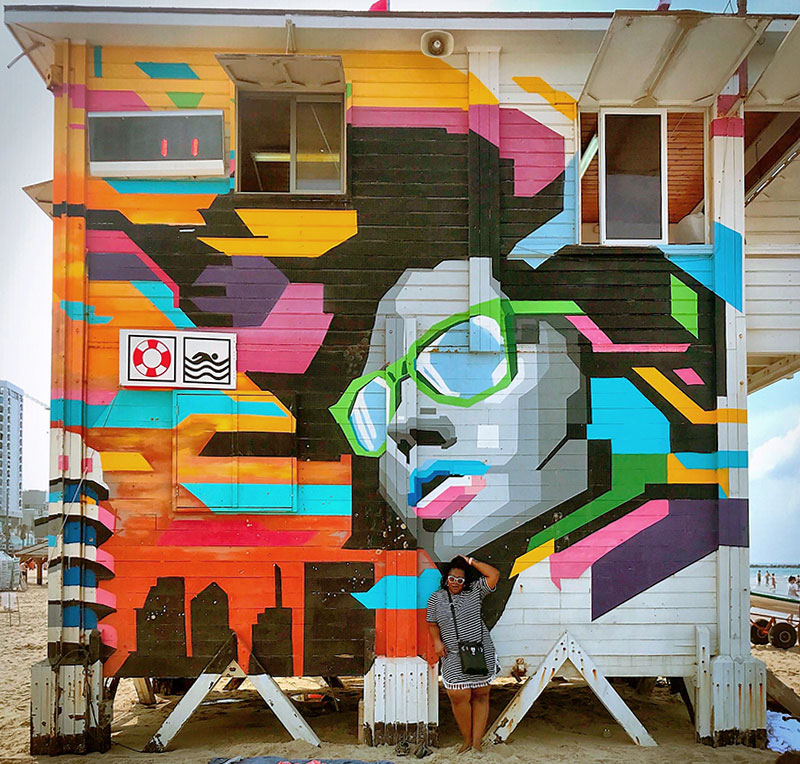 After departing from the beach we made our way to the old city of Jaffa ( or Yafo as it's known in Hebrew), is a cute little town with an amazingly rich history with a quaint style and tailored stores perched at the southern end of the Tel Aviv shoreline. The Jaffa Flea Market ("Shuk HaPishPishim" in Hebrew) is one of the main attractions in the Old Jaffa city. For visitors like myself who is always combing through markets in search of antiques, second-hand treasures, bargains or simply a fantastic experience this was surely the place to visit. I got the full market experience- the sounds of the haggling, the smells of the produce, the interaction with the merchants and the exciting atmosphere of the give-and-take between buyer and seller. I must say Israel on a whole has the most amazing food I've had so far in my travels. It is also worthy to mention as a young country (it was declared independent in 1948 after a UN ruling) its culinary traditions are borrowed from the many countries it now borders and the people who have emigrated here in the last hundred years.
So the restaurants I dined at did not fail to impress with the flavours bursting in my mouth and everything had it's own unique flair!
Day two : Our trip to Jordan
We started with a four-hour ride from Tel Aviv to the Jordan border with one rest stop along the way (for this leg of the trip I recommend a nice books to read, listening to some music or catching a short nap). After getting a visa at the Jordan and Israel Border we were escorted by the Jordanian tour associates with new buses and a new set of tour mates from other areas of Israel. The drive into Jordan was fast and practically traffic free and it took us around 3 hours to get to Petra.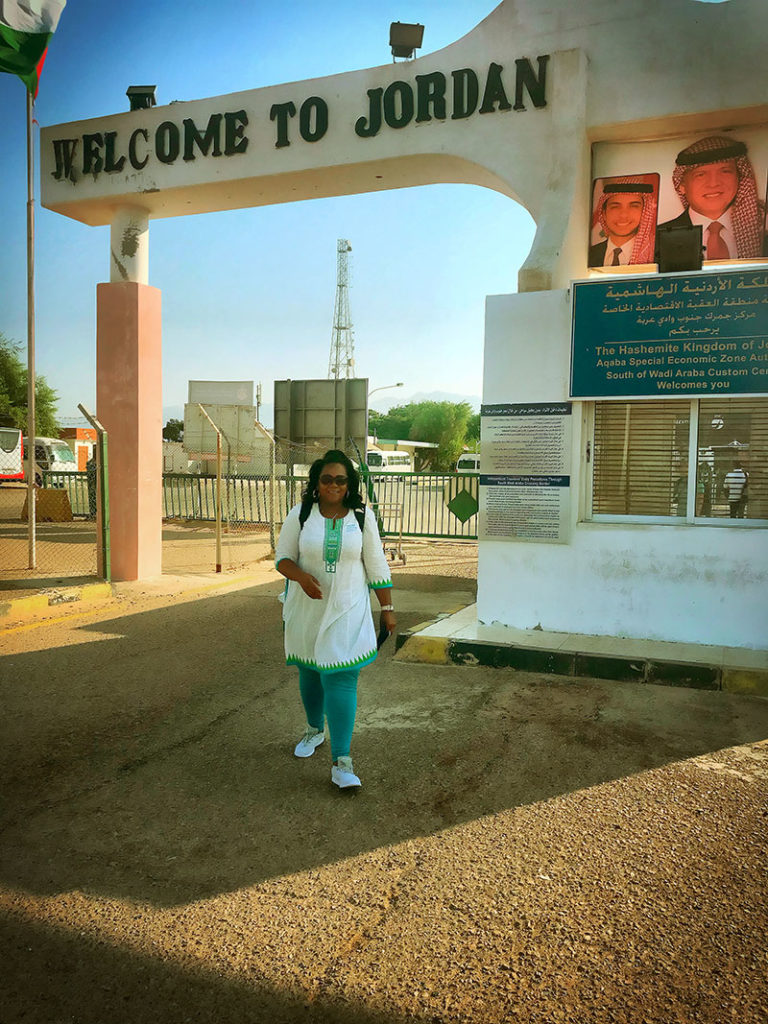 Prior to entering Petra we were warned about the possible scams we would encounter — one being higher prices from vendors inside Petra vs vendors on the outside. Another scam was that horse riders would try to convince you that a ride to the temple was included in your admission ticket but when you arrived you were charged $100usd. The walk from entrance to first temple is pretty much a one hour walk. The temperature inside is really hot, as well and we were advised to wear a scarf around our head to help keep us cool. As much as I wanted to resist wearing a scarf, it truly did help.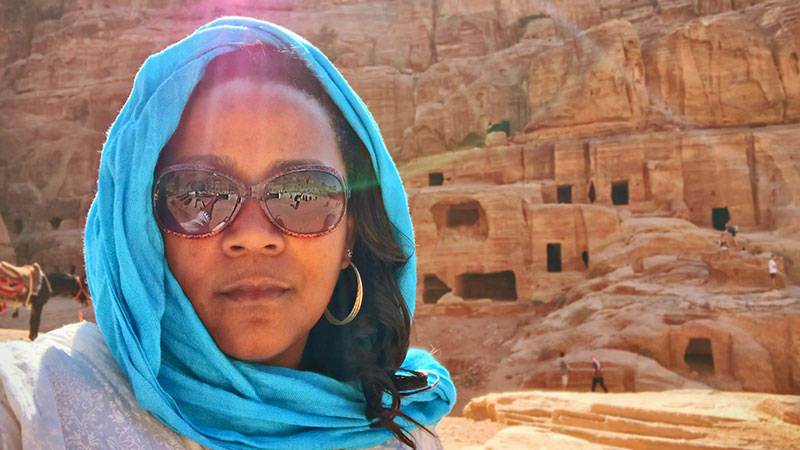 Along the route there are some really beautiful rock formations and amazing red colored stones. But nothing beats the view of the temple after the one-hour trek.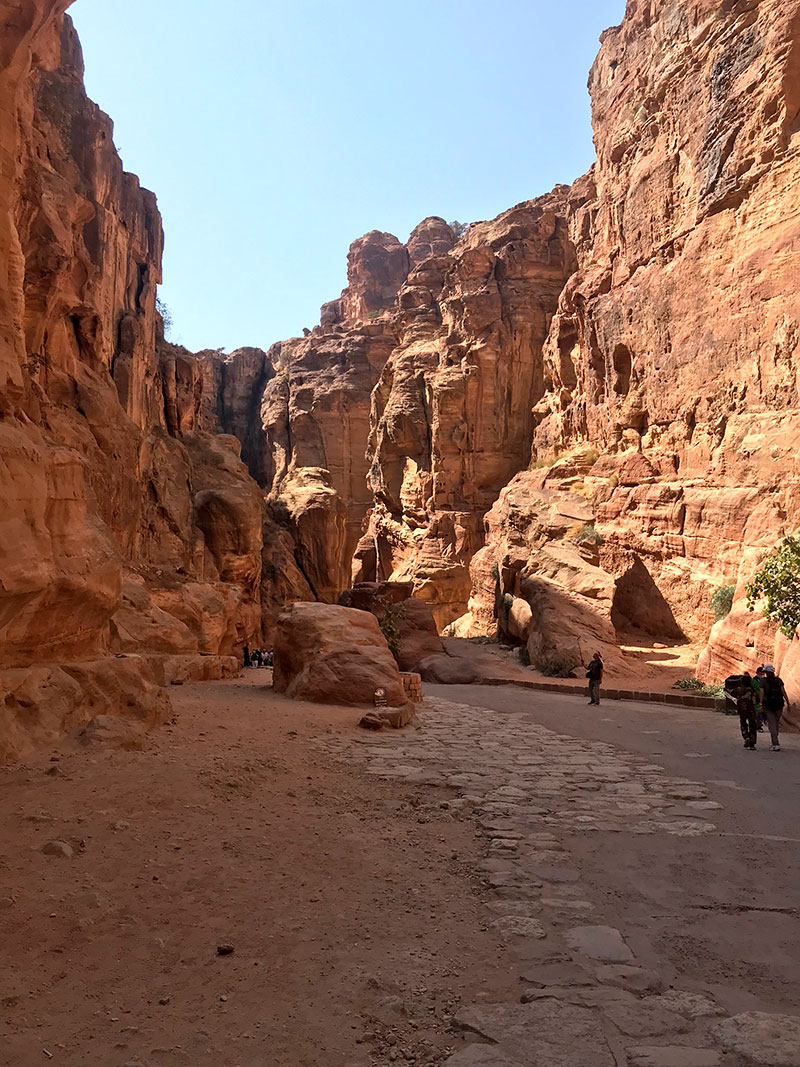 From more information on 10 things to know before you go to Petra >> READ MORE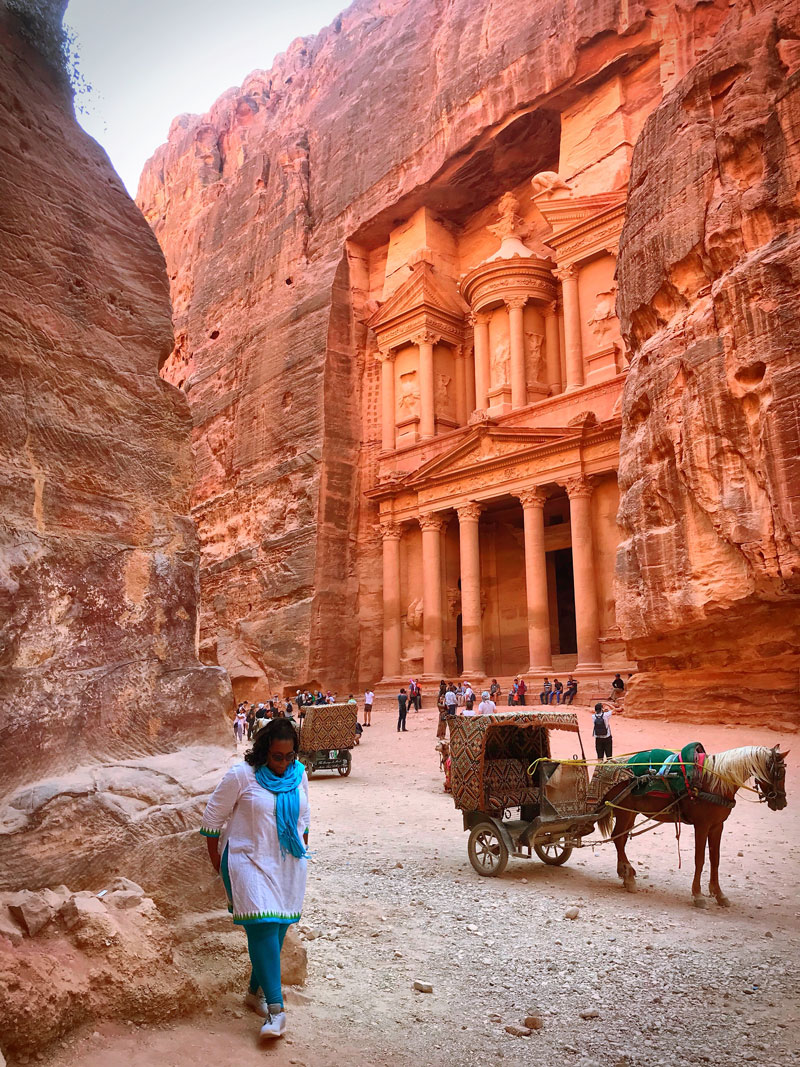 Day three : Bait Ali Camp
Visiting Petra took an entire day and on the way back we stopped at Bait Ali Camp for the night. This lodging is tucked behind a hill, with a fine view of the wilderness . It felt more like a "glampsite" as the rooms were in comfortable air-conditioned chalets that are designated to each pair of tourists. Facilities include swimming pool, restaurant with nightly barbecue produced from an open zerb (an oven buried in the sand). Oh there is also the option of pitching your own tents or parking a camper van.
The following morning we explored Wadi Rum with its dramatic landscape of the Jordan desert with some amazing rock formations that I believe is indeed crafted by nature. I believe many of you might have heard of that movie Lawrence of Arabia; if not, try to find a Youtube clip to see how many tourist started there trek here.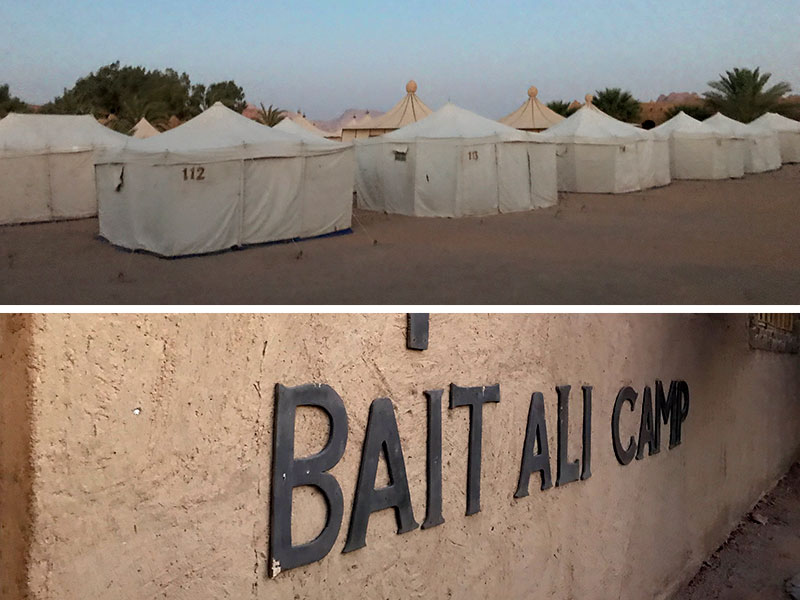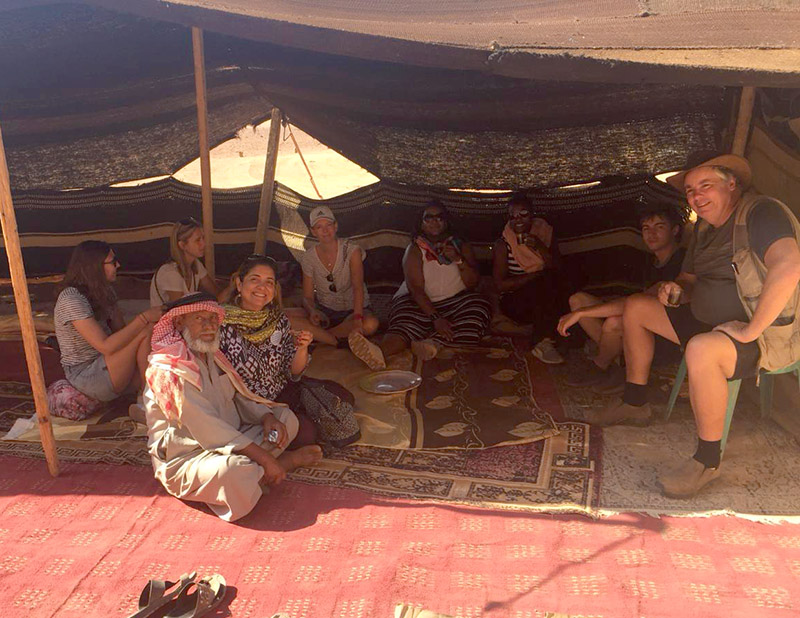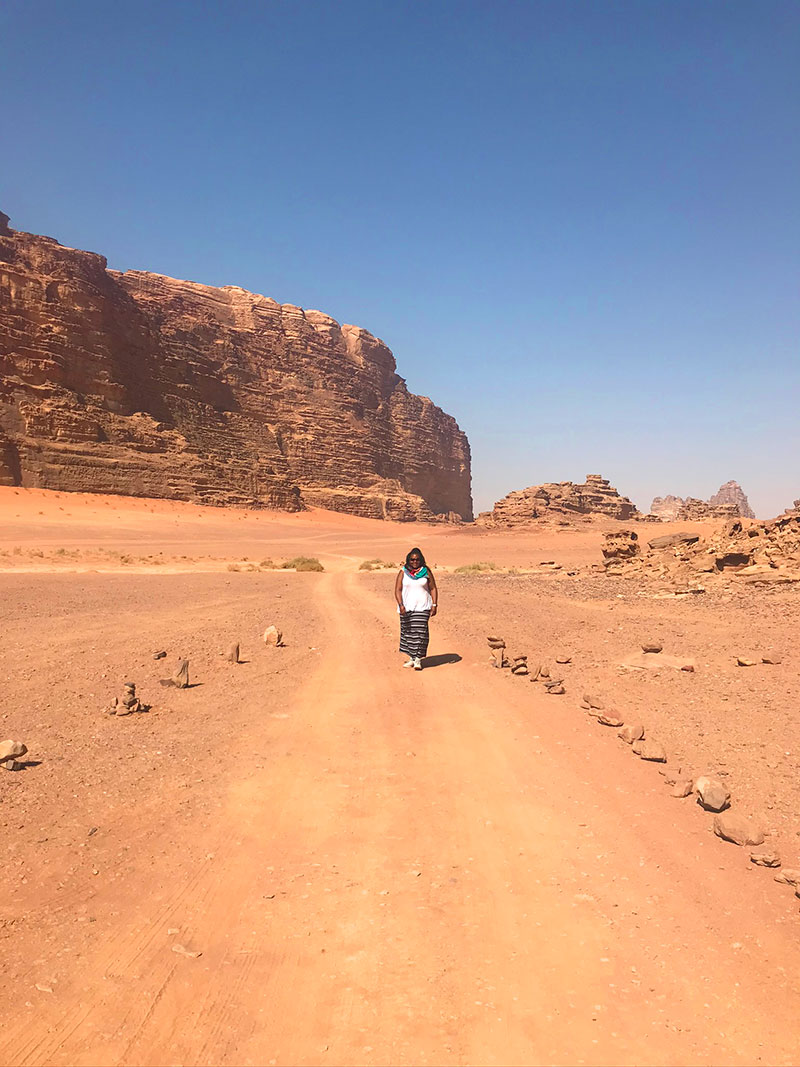 Day four : Aqaba
We left Wadi rum early afternoon and explored Aqaba until it was time to cross the border back into Israel. In Aqaba you have the unique opportunity to dive in colourful coral gardens in the morning (its clear, warm waters and vibrant coral reefs are said to be the best in the Red Sea), and then wandering through centuries-old Nabatean wonders in the afternoon. What I found interesting is that even though the security between the two countries can be heavily surveilled and guarded on either side they share the Red Sea. But make no mistake even the waters are secured between Jordan and Isreal. That history itself is for another blog.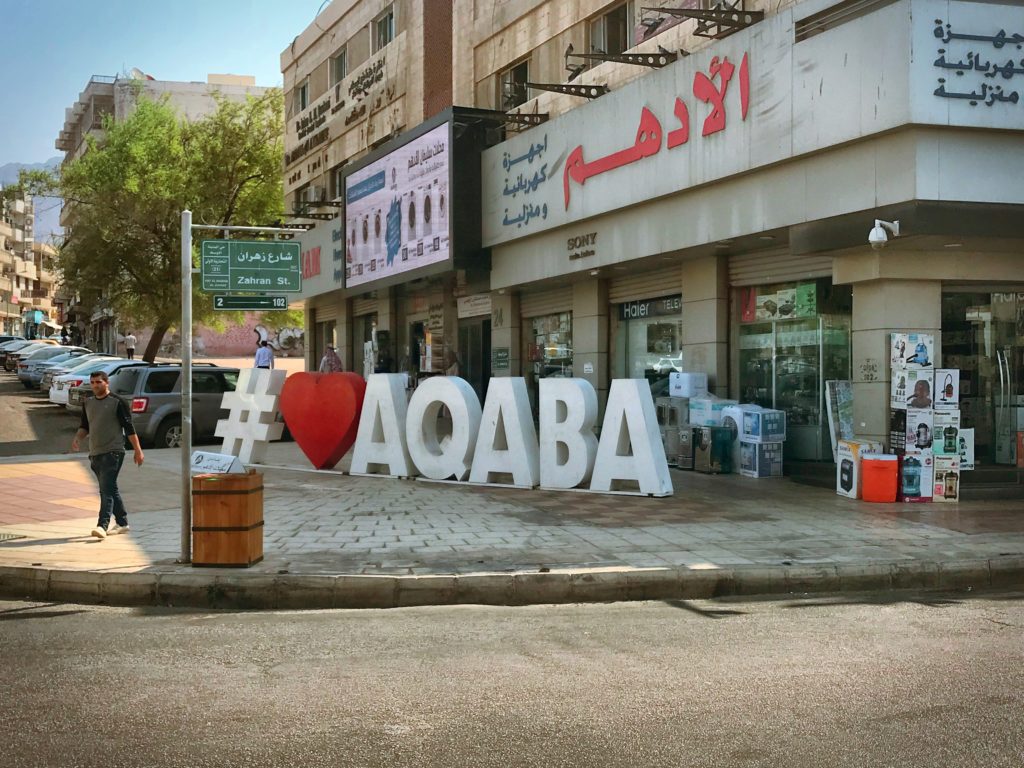 Once we got to Israel we spent some time at the beach in Eilat. From the restaurant we decided to stop at to enjoy some drinks, we could still see Jordan and the city we just left. The beaches in Eilat are known for snorkeling, scuba diving, and many other water sports as well a prime place for rest and relaxation. Eliat is a lot of fun and a very lively city. The entire trip and crossing borders made me even more curious about the country Israel, and I wanted to learn even more about how they cope with their surrounding neighbors.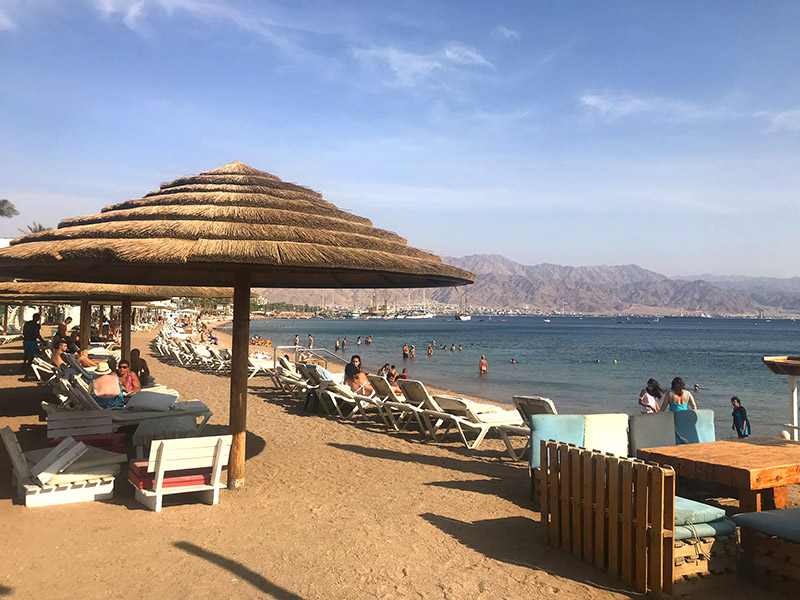 Either way I had a really great time and was ready to continue to explore other parts of Israel, like Jerusalem and the Dead Sea.
Coming in another blog very soon 😉